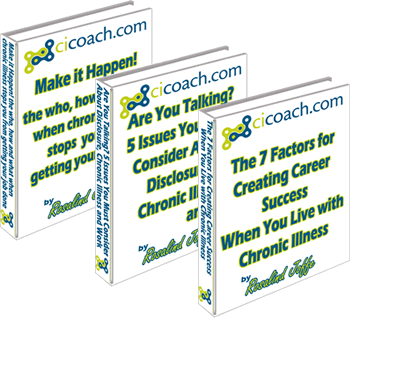 The only series of its kind dedicated to giving you the strategies and tactics you need to thrive in your career when you live with a chronic illness.
1. The 7 Factors
Creating Career Success While Living with Chronic Illness
2. Are You Talking?
5 Issues You Must Consider About Disclosure, Chronic Illness, and Work
3. Make it Happen!
The Who, How and What: When Chronic Illness Stops You From Getting Your Job Done
Please Note: You will have to fill out a form on the thank you page in order to receive your product/download!
Buy this 3-part series!
PDF / Digital Version$10.00
"This is substantial stuff. With my schedule, I don't have time to read lengthy information. I read each booklet in 15 minutes – downloaded on my blackberry – and found one reminder to help me better manage my illness at work and in my personal life. These booklets are more than just "quick tips" – they're thoughtful – provoking and actionable. This is fabulous."
Director, Human Resources, Blue Cross Blue Shield MA, fibromyalgia
Learn More About Each of the Three Guides: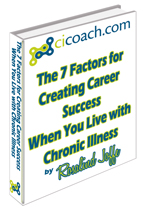 The 7 Factors
Creating Career Success While Living with Chronic Illness
A ciCoach White Paper 
Based on groundbreaking interviews with 50 working people with chronic illness, Rosalind identifies the top 7 factors that can affect your ability to be successful in your job and your career.
Table of Contents:
Making effective career choices can vary according to your age at diagnosis.
Weighing the pros and cons of self-employment.
Developing allies in the workplace.
Recognizing that misperceptions can be harmful.
Dealing with the anxiety that arises because others know your health is unpredictable.
Maintaining employment induces a positive state of mind.
Finding a workplace with a supportive "culture."
Excerpt: "People who live with chronic illness/conditions face the same workplace challenges that healthy people face – and more. Managing illness in the workplace, an environment that is generally unsupportive of an individual's personal needs, requires one to be highly flexible, a characteristic that is very hard to achieve, especially as we get older. This is one of the greatest challenges that both the individuals and the workplace face in meeting the workplace needs of the chronically ill."
"I read this and only then realized why some of the jobs I've had over the years have been so much more difficult than others. I wish I'd had this at the beginning of my career – and illness."
E. B., lupus, VP Corporate Strategies, Retail Organization
---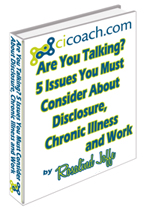 Are You Talking?
Disclosing Your Chronic Illness at Your Job
5 Issues You Must Consider
This is the number one issue for people who live with chronic illness and most "experts" all say the same thing: Don't talk about it.
Table of Contents:
Chapter 1 – The Scarlet Letters
Chapter 2 – Talkin' 'Bout Your Chronic Illness
Chapter 3 – Campaign to Succeed
Chapter 4 – To Disclose or Not to Disclose in the Job Interview?
Chapter 5 – Disclosure on the Job
Excerpt: "And that's where I see a silver lining in this cloudburst of illness. It is my fervent hope that this kind of public conversation will make it easier for more of us who live with chronic illness to get the support we need to live productive and successful lives – while living with the scarlet letters, CI."

"This is stuff I've wondered and worried about. I don't know how you make it so clear– but you do. I feel much better prepared to talk about this now."
J.W., Crohn's disease, VP, Telecommunications
---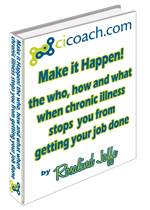 Make it Happen!
the who, how and what when chronic illness stops you
from getting your job done

You have to think strategically and behave like a master tactician to be able to respond to unpredictable chronic illness. This booklet gives you the tools to figure out what you can do so you're not struggling just to stay in place – but can start to thrive in your job.
Table of Contents:
Chapter 1 – Ten Things I Want You to Know About Working [While Living] With a Chronic Illness
Chapter 2 – Chopping Down the Decision Tree
Chapter 3 – Action Isn't Always Louder Than Words
Chapter 4 – Embracing Plan B
Chapter 5 – When You Have to Explain, "I Can't"
Chapter 6 – You Can't Always Get What You Want
Excerpt: "Your co-workers probably won't understand your experience unless they live with chronic illness. But they can be comfortable that you're not making up an excuse or trying to avoid something. This is true whether it's the computer system or your body that is messing things up and not working as you wish it would."
Buy this 3-part series!
PDF / Digital Version$10.00