I don't typically post about a book publication but Donna Jackason Nakazawa's work is unique.
Today is the official pub date for her new book, The Last Best Cure.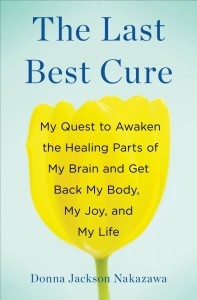 "The Last Best Cure will change lives; it may even save some." –Katrina Kenison, author of The Gift of an Ordinary Day
"This is a genuine page-turning science/non-fiction thriller!" –Sylvia Boorstein, author of Happiness is An Inside Job: Practicing for a Joyful Life
"Nakazawa has written a moving account of her recovery … it will certainly inspire others." –Andrew Weil, M.D., author of Spontaneous Happiness
And here's a  teaser about the book itself:
One day Donna Jackson Nakazawa found herself lying on the floor to recover from climbing the stairs. That's when it hit her. She was managing the symptoms of the autoimmune disorders that had plagued her for a decade, but she had lost her joy. For years, she'd been living on what she'd come to think of as the "Pain Channel." She wanted to tune into the "Life Channel" instead. As a wife and mother of two, she was determined to get her life back. As a science journalist, she was compelled to understand why her brain might be her last best cure.
Donna's writing is a must-read for anyone living with chronic illness and autoimmune disease, and The Last Best Cure is a compelling and enlightening extension of her previous work. Click on over to her site to read an excerpt.